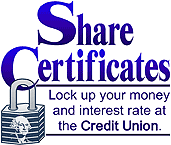 GREAT RATES AND TERMS FOR YOUR INVESTMENTS
Current Investment Rates Effective for: March 2019
Certificate of Deposit – (Paid Quarterly)
| Account Type | Minimum Bal to Open | APY* | Dividend Rate |
| --- | --- | --- | --- |
| 3 Month CD | $500 | .25 |   .248 |
| 6 Month CD | $500 | 1.00 |   .998 |
| 9 Month CD | $500 | 1.25 |  1.245 |
| 12 Month CD | $500 | 1.75 | 1.742 |
| 12 Month CD Add-On | $100 | 1.75 | 1.742 |
| 14 Month CD | $500 | | |
| 18 Month CD | $500 | 2.10 | 2.084 |
| 24 Month CD | $500 | 2.50 | 2.479 |
| 30 Month CD Bump-Up | $500 | 2.65 | 2.625 |
| 36 Month CD | $500 | 2.75 | 2.723 |
| 48 Month CD | $500 | 2.85 | 2.820 |
| 60 Month CD | $500 | 3.00 | 2.970 |
CD/IRA/Roth – (Paid Quarterly)
| Account Type | Minimum Bal to Open | APY* | Dividend Rate |
| --- | --- | --- | --- |
| 3 Month | $500 |   .25 |   .248 |
| 6 Month | $500 |  1.00 |   .998 |
| 9 Month | $500 | 1.25 | 1.245 |
| 1 Year | $500 | 1.75 | 1.742 |
| 18 Month | $500 | 2.10 | 2.084 |
| 2 Year | $500 | 2.50 | 2.479 |
| 3 Year | $500 | 2.75 | 2.723 |
| 4 Year | $500 | 2.85 | 2.820 |
| 5 Year | $500 | 3.00 | 2.970 |
Money Management CD's – (Paid Monthly)
| Account Type | Minimum Bal to Open | APY* | Dividend Rate |
| --- | --- | --- | --- |
| 12 Month CD | $10,000 | 1.75 | 1.737 |
Money Management Checking Account – (Paid Monthly)
| Balance | APY* | Dividend Rate |
| --- | --- | --- |
| $500 to $2,499 | .010 | .01 |
| $2,500 to $9,999 | .050 | .05 |
| $10,000 to $49,999 | .100 | .10 |
| $50,000 to $99,999 | .201 | .20 |
| $100,000 above | .401 | .40 |
Super Saver (Paid Monthly)
| Minimum Bal to Open | APY* | Dividend Rate |
| --- | --- | --- |
| $1,000 | .150 | .15 |
*APY = Annual Percentage Yield
New Money = Deposits cannot be traced back to a MVCU account within the last 90 days, directly or indirectly
Fees could reduce account dividend earnings
Dividend rate may change after the account is opened
A minimum balance to open a Regular, Vacation, or Accumulator IRA is $25.00 per member.
ASI- American Share Insurance
Your deposits are insured up to $250,000 per account.
This institution is not federally insured
MVCU reserves the right to change any rates at any given time.